Preparing the Leaders of Tomorrow
Business Voice Political Committee recognizes that quality elected leaders come from quality candidates.   Too often, the process of running for office is a deterrent for men and women who otherwise have a great deal to offer their community in terms of knowledge and experience.  Business Voice  candidate training is a resource for those considering public office. We want to support individuals who will be leaders in the community in whatever capacity they decide to serve.  Let our experienced leaders and network of engaged activists help you to be a prepared, confident and capable candidate.
The next candidate training program will be held in 2021.  Email info@businessvoicepac.com to request more information when the dates and program are announced.
Running for office is a huge decision.  If you feel called to serve your community in this way, we want to hear from you.   Our Candidate Recruitment Committee would welcome the opportunity to speak with you about your political aspirations.  Email info@businessvoicepac.com today!
Candidate Training Program
Business Voice is a county-wide resource focused on ensuring we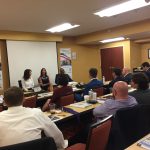 have the best qualified and most prepared candidates elected to public office.  In the Fall of 2017 Business Voice hosted a Candidate Training Program designed to help individuals better understand the process of running for elected office.   It had been over a decade since a program like this was offered in Brevard. Business Voice Political Committee is a non-partisan organization and participation was open to individuals of all political persuasions.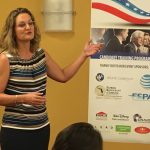 14 individuals participated in the program.  They represented a diverse group, with 12 Republicans, 2 Democrats, small business owners, teachers, veterans, and of course a few lawyers.   We had candidates who had already filed to run for office, as well as individuals who see public service as something they might consider in the future.
Please note that by not disclosing the names of participants Business Voice ensures discretion, so those who wish to learn more may attend without tipping their political hand.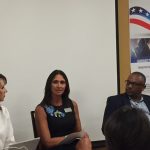 The training covered the three fundamentals of campaigning: Organization, Communications, and Fundraising.  Sessions offered practical insights on demographics and targeting, as well as assistance drafting a campaign plan and budget.  Participates heard from experienced political consultants from across the state and were provided valuable resources.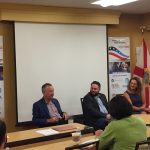 At the end of the event, participants had the opportunity to meet with the Business Voice network of local donors and activists at a private reception.
2019 Training Program
Our second Candidate Training Program took place May 3rd and 4th 2019 at the Courtyard Marriott in West Melbourne.  You can view the agenda here.
14 individuals participated, again of diverse backgrounds, experience and political persuasions.  It was also exciting to see the number of women participants increase – from just one in 2017 to 7 in 2019.
______________________________________________________________________________
Participation in the Candidate Training Program in no way constitutes an endorsement from this group or any of our sponsors.  
The program is of an educational nature and considered a public service to train and educate future leaders.